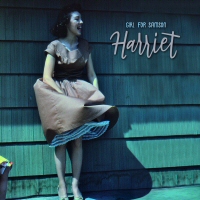 listen to Harriet on Spotify
listen to Harriet on Pandora
listen to Harriet on iTunes
Girl for Samson - "Gander" Lyrics

Take another gander, sky looks so blue so why aren't the clouds?
It's not what you were doing, it's not what you found in the crowd
Sugar tongued pony, look at you fall upon your knees
Swallow your apollo, the call of the cat fades on the tree
I can never hide all this sulfur
Let it take you high, all this sulfur
Wounded ballerina, unwanted streak of paint on her cheek
Trip the crippled priestess, more like a gulch and not like a creek
Ugly palomino ugly like the back of your head
Lalalala whoa whoa whoa

Copyright © 2015 Girl for Samson. All Rights Reserved. 

Copyright © 2000 - 2023 Girl for Samson. All Rights Reserved.