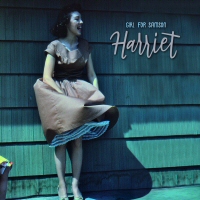 listen to Harriet on Spotify
listen to Harriet on Pandora
listen to Harriet on iTunes
Girl for Samson - "Meri" Lyrics

Meri works in a bookstore sorting novels and postcards that she'll never send to her sister who doesn't travel
Meri married a fireman in St. Peters and he looked forward to the day his parents would finally meet her
Meri read a romance novel and decided she would follow all the pages and the cover too
Taking care of the kids and waiting tables til she's able to buy a bus ticket all the way to a place like Barbados
She doesn't know if her parents ever loved her 
(maybe they loved her but probably she was right)
she likes when the light splashes halos on the ground
It's hard to make up for that day she slept forever
(maybe forever but probably just last night)
make no mistake she's still waiting for Brother John

Copyright © 2015 Girl for Samson. All Rights Reserved. 

Copyright © 2000 - 2023 Girl for Samson. All Rights Reserved.