I wouldn't have a single gal, the reason is plain to see,
I cannot find a single gal who hankers after me.
Jimmie Driftwood -  I'm Young To Marry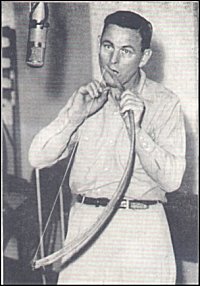 Yeah, Jimmie Driftwood wrote The Battle of New Orleans. You know, "In 18 and 14 we took a little trip..." Johnny Horton recorded the song and scored a big hit with it in 1960. But you may not have known that Jimmie (James Corbett Morris) wrote nearly 6,000 folk songs, 300 of them were recorded or published by such stars as Eddy Albert and Johnny Cash. The former school teacher also won several Grammies and helped save the Buffalo River in Arkansas from being dammed.

Jimmie, also known as Jimmy after he left RCA, was born in Mountain View, Arkansas in 1907. He made Arkansas his home for most of his 91 years, spending most of his later years in Timbo.

He originally started setting his poems to music as a way to teach history to his students. His voice and music were very simple and charming. His songs dealt with courtin', life in the Ozarks, the Revolutionary and Civil Wars, American folklore and even Sea Shanties! The music was usually a guitar (Chet Atkins played guitar on The Battle of New Orleans album) accompanied by a bass and mouth-bow. The mouth-bow that Jimmie used was actually like a shorter version of the bow from a bow and arrow. Because of the size he was able to get a "fatter" sound out of it. Jimmie also used a handmade guitar made by his great-grandfather, Elija Morris. Jimmie claims to have used this guitar on every one of his recording sessions.

Driftwood's Battle of New Orleans album was a family favorite when I was growing up. Originally we were thrilled with the "hells" and "damns" that were sprinkled throughout the record, but in later years, the simple beauty of the songs made it a coveted prize for whichever family member was able to hoard it. One year, while in temporary possession of the album, I wised up and made myself a cassette copy.

In the mid-eighties, a friend and I were driving across the southern part of the US, just two goofy guys on a road trip. At one point in Arkansas, I was playing cassettes of some of my favorite music to help pass the time. We just happened to be in Mountain View when I ejected an XTC tape and popped in my copy of The Battle of New Orleans. Within minutes we stumbled upon a sign for the Driftwood Barn! Jimmie had the barn built to have a place to perform, which he did regularly for free. I had no idea at the time that he was even from Arkansas. It was a purely random event. We gleefully set the camera on the hood of the car and dashed to the front of the barn to have our pictures taken with Jimmie's grinning likeness on the sign above us. Later, we drove around to try to find out if Jimmie was playing anywhere or if we could meet him. A lady, working at one of those Royalty Freeze places with a giant ice-cream cone in front, informed us that he had recently been in an accident with his wife and was currently "laid up." We continued east.

I found out this year ('99) that Jimmie died of a heart attack on July 12th, 1998. I've since heard that his hospitality was legend and that he would play for anyone who stopped by. We missed out on quite an opportunity.

Jimmie's records are quite hard to find and very popular amongst collectors. If you do come up with one, you will probably have to deal with some scratches and gouges because of it's age. If you can't find a mint record, there is a 3 CD set of Driftwood's songs called Americana that you can find on music sales sites - especially in Europe.

Pick up one of Jimmie's records if you can. You won't be helping Jimmie or his family much, but you will be doing yourself a huge favor.